OILERS 50/50 TO HELP FUND ALBERTA WILDFIRE RELIEF EFFORTS IN SUPPORT OF WOUNDED WARRIORS CANADA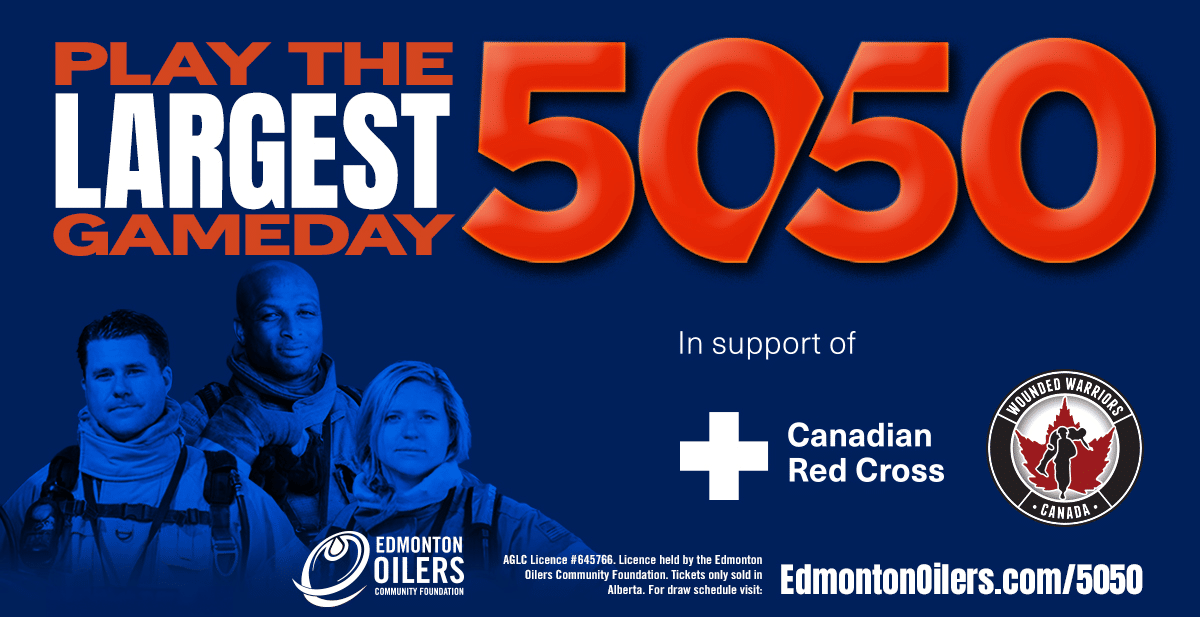 October 6, 2023 (Edmonton, Alberta) – The Edmonton Oilers Community Foundation (EOCF) announced today that their next two Oilers Standing Up for Oil Country 50/50 raffles, running from October 6 to 21, will support the Canadian Red Cross and Wounded Warriors Canada in their wildfire relief efforts—including supplies and accommodations for evacuees and a wide range of support services to firefighters and emergency personnel.
"Our hearts go out to the four courageous firefighters who lost their lives fighting this year's unprecedented wildfires and their families," said Corey Smith, Board Chair, EOCF. Oil Country faced historic devastation this year due to wildfires forcing thousands of Albertan families to evacuate their homes. The Canadian Red Cross and Wounded Warriors Canada continue to work tirelessly to alleviate the suffering and provide the necessary support to those affected and emergency services personnel, which is why we are proud to support them through our upcoming 50/50 raffles. With the increased demand on these organizations, it has become increasingly important for Albertans to rally together and stand up for the families across Oil Country who need our help."
Wounded Warriors Canada prioritizes the physical and mental health of first responders and their families, so they have access to urgent support services in times of the greatest need.
"Our firefighters and emergency services personnel saved thousands of homes through the most grueling wildfire season in Canadian history," said Scott Maxwell, Executive Director, Wounded Warriors Canada. "Tragically, four firefighters made the ultimate sacrifice working to keep our communities safe. We know how much it means to our First Responders when the community has their back and that help is available in their time of need. That is exactly what we're accomplishing through our proud partnership with the Edmonton Oilers Community Foundation on this important Multi-Day 50/50."