Trauma Resiliency Training
In TRT, trauma resiliency is the result of individuals and organizations working together in an ongoing effort to manage the effects of trauma exposure.
Trauma-exposed professionals are highly trained individuals working in both military and public safety roles that include, but are not limited to, first responders, dispatchers, search and rescue specialists and others. The nature of trauma-exposed professional work necessitates ongoing, repeated, and serial exposures to traumatic events where individuals perform their duties according to current best practices and guidelines in their chosen professions (e.g., military, police, firefighter, paramedic etc.).
Despite having extensive and intensely focused training in many facets of the job, one area that trauma-exposed professionals do not tend to receive adequate training in is in recognizing, managing, and addressing the common and predictable effects of exposure to traumatic events. The Trauma Resiliency Training (TRT) program, developed at the University of Victoria, fills this gap in professional training for trauma exposed workers and organizations.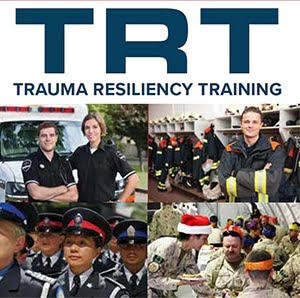 Trauma Resiliency – Power in a Team Approach:
In the TRT, trauma resiliency is the product of knowledge, skills and social support. The TRT teaches that the idea of building a "stronger" person who can handle more trauma is based on the flawed assumption that resilience is located in an individual, completely separate from their organizational context. In TRT, trauma resiliency is the result of individuals and organizations working together in an ongoing effort to manage the effects of trauma exposure.
TRT views trauma resiliency as the outcome of organizations providing members with the following:
The most recent and relevant trauma education available
Opportunities to learn, practice and hone trauma-management skills
Trauma-informed social support for all trauma-exposed members and employees
Resiliency does not rest solely inside an individual, but rather is a quality that organizations develop and maintain with and on behalf of their employees.
The Foundations of TRT
The amount of information available on trauma and its effects is overwhelming. The TRT has been designed, piloted and tested to provide the most relevant information to trauma-exposed professionals and organizations so that non-mental health professionals can understand what is being taught quickly and apply it instantly to their personal experiences as a trauma-exposed professional.
The Foundations of the TRT are:
The TRT curriculum speaks to the lived experiences of trauma-exposed professionals in a way that participants recognize how the work they do impacts them in small and large ways. Participants learn that traumatization is not an inevitable consequence of exposure to trauma, but rather an ongoing risk of the job that, when managed, reduces the likelihood one will be injured. Participants learn the basic skills of trauma management to begin using immediately.
TRAUMA RESILIENCY TRAINING
Beyond Reducing Stigma:
Destigmatizing campaigns focused on increasing awareness and acceptance of mental health issues have helped to change the culture in many trauma-exposed organizations. TRT takes things one step further.
TRT encourages trauma-exposed organizations to aspire to a higher standard than simply destigmatizing the effects of trauma. TRT encourages organizations to make trauma-exposure management the new professional standard by teaching, training and supporting members to better manage their post-trauma responses immediately afterwards and in the weeks following exposure to trauma.
Once members better understand trauma, they want the skills and tools to manage their post-trauma responses. To address this, organizations can utilize the TRT Pro-STEP.
TRT Professional Serial Trauma Exposure Protocol (Pro-STEP)
When a professional is exposed to a traumatic event, regardless of how they perform their duties, the event can have little to no lasting effect, it can have a somewhat lingering effect, or it can have a significant effect. Regardless, it does not necessarily lead to traumatization. However, when a traumatic exposure "sticks" or lingers in the mind and heart of the professional, unsticking the event is essential, as the build-up of "sticky" events can have a debilitating effect on the individual over months and years.
TRT Pro-STEP is the tool TRT teaches participants and organizations to help trauma-exposed professionals "unstick" traumatic events.
3-Day Train-the-Trainer Course
Trauma-exposed organizations with greater than 100 members are best served by adopting the 3-Day, TRT Train-the-Trainer Model. For organizations with fewer than 100 members, face-to-face delivery with TRT Facilitators may be more feasible.
Members, considered suitable for the training by colleagues and supervisors, are nominated to attend the train-the-trainer TRT module to become TRT Peer-Team members. Over the three-day program, participants learn the fundamentals of TRT from professionally trained TRT Facilitators; they learn the TRT Peer-Based Platform, practice delivery of the TRT content, receive micro-skills coaching on presentation skills, how to deliver the information clearly, consistently and coherently, and how to deal with common questions and challenges.
Day One:
Background & Orientation to the TRT 3-Day Course – Practice Session 1
Day Two:
Micro-skills Coaching for Delivering TRT to Peers – Practice Sessions 2-4
Day Three:
Final Practice Session and Course Completion
Q: What are the peers trained to deliver?
A: The TRT Peer Team are provided with all of the content necessary to deliver a 1.5hr training on the fundamentals of trauma resiliency (i.e. a PowerPoint presentation, manual, etc.).
Q: Who can attend the training?
A: Peers who are viewed by both colleagues and supervisors as suitable to the training due to personal qualities, reputation, verbal skills and leadership potential.
Q: Do TRT Peer Team members need to have formal mental health training?
A: No. The TRT curriculum is designed to be delivered by lay-persons with no formal training. The unique contributions TRT Peer Team members bring is how they relate to the information as trauma-exposed professionals in the organization.
Q: How many peers can be trained at one time?
A: With 2 TRT Facilitators per training, up to 24 peers can be trained at a time.
Q: What about follow-up for the TRT Peer Team?
A: The Peer Team will need to receive up to two debriefings per year to address any questions coming up in their presentations. This will help ensure the maintenance of consistent curriculum delivery.
Q: Who should I contact?
A: Contact Wounded Warriors Canada for more information or to book a TRT training.