LEEDS GRENVILLE PARAMEDIC SERVICES PARTNERS WITH WOUNDED WARRIORS CANADA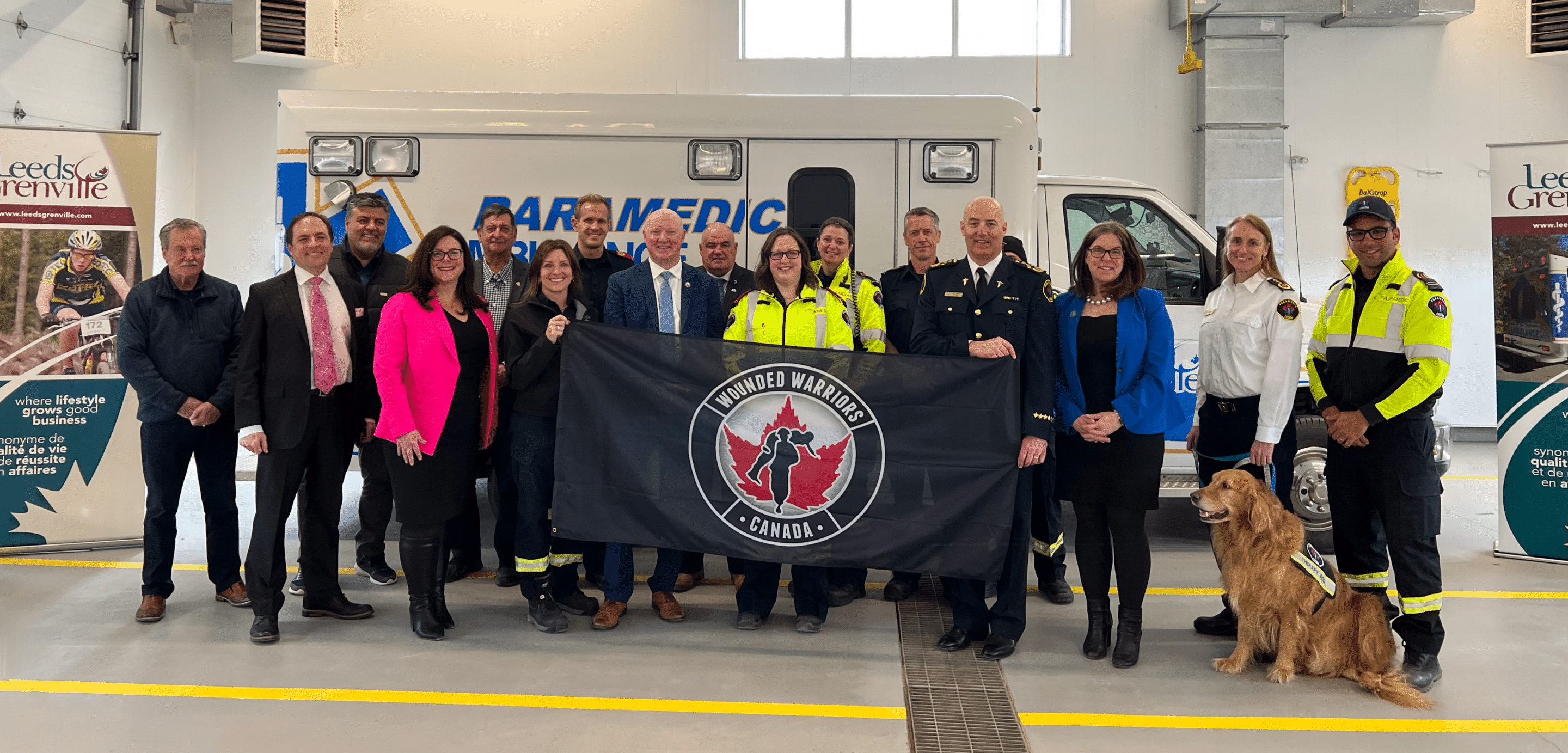 Brockville, On – Today, the United Counties of Leeds and Grenville and the Leeds Grenville Paramedic Services proudly announced a new partnership with Wounded Warriors Canada. With this partnership, Wounded Warriors Canada will provide an additional layer of mental health support and resources to Leeds Grenville Paramedics and their families.
"The Counties is very proud of the commitment and dedication of every one of our Paramedics, and how much members of the Service have gone above and beyond to take care of the residents of the United Counties – before, during and after the paramedic. Counties Council firmly believes a multipronged mental health strategy is urgently required and this partnership is an important step," stated Warden, Nancy Peckford.
The United Counties of Leeds and Grenville strives to promote and support the total wellbeing of employees, including fostering a robust program of mental health and wellness supports. This includes an Employee Assistance Program, the 2023 budget addition of a Wellness Coordinator Position to lead in the development of new programs and to assist our Peer Support Group.
"It is important that our staff is well supported with programs and policies that meet the varying needs of our team," said Chief of Paramedics Jeff Carss. "Our paramedics face unique pressures while serving our communities and supporting residents in their times of need. We are very pleased that, through our partnership with Wounded Warriors Canada, Leeds Grenville Paramedics will have access to innovative programs and resources to assist our members and their families."
"Given the complexities of operational stress injuries, we know that no single organization will ever be the 100 per cent solution when it comes to the mental health and wellness of its members and their families. Partnerships are vital. Together, we are working to break down barriers to accessing culturally appropriate mental health support while reducing stigma for those who keep our communities safe. We look forward to working with the team at Leeds Grenville in the months and years to come,"said Scott Maxwell, Executive Director, Wounded Warriors Canada.
As a mental health service provider, Wounded Warriors Canada offers a range of clinically facilitated programs that have been specifically developed to support the unique needs of Veterans, First Responders and their families. The programs support individuals, couples, spouses, surviving spouses, and children of those who serve or have served our country. Wounded Warriors Canada also provides leading-edge trauma informed workplace training geared towards helping make trauma exposure management a new professional standard for First Responders.