VAUGHAN FIRE AND RESCUE SERVICE FIRE RESCUE PARTNERS WITH WOUNDED WARRIORS CANADA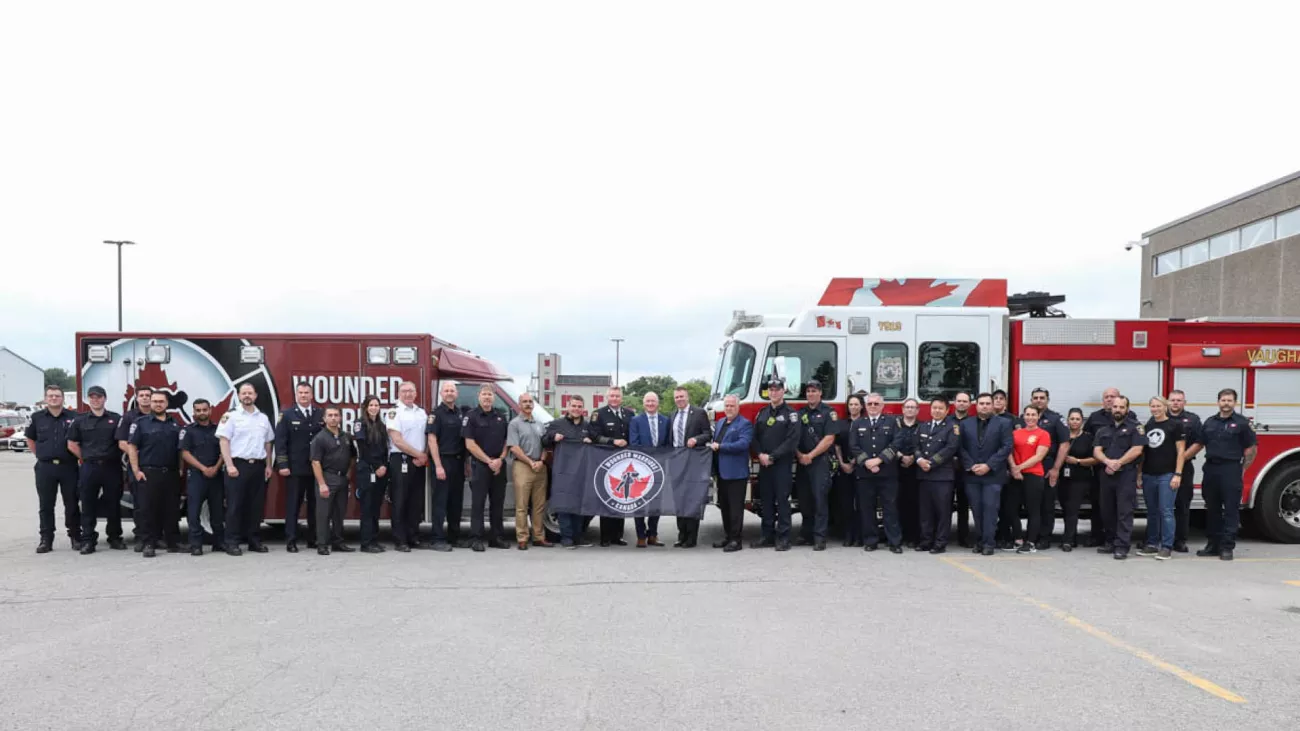 Vaughan, ON –– Wounded Warriors Canada is proud to announce a partnership with Vaughan Fire and Rescue Service. With this partnership, Wounded Warriors Canada will provide an additional layer of mental health support and resources to Vaughan Firefighters and their families.
"Given the complexities of operational stress injuries, we know that no single organization will ever be the 100 per cent solution when it comes to the mental health and wellness of its members and their families. Partnerships are vital. Together, we are working to break down barriers to accessing culturally appropriate mental health support while reducing stigma for those who keep our communities safe. We look forward to working with the team at Vaughan Fire and Rescue Service in the months and years to come," said Scott Maxwell, Executive Director, Wounded Warriors Canada.
"Vaughan's first responders put their lives on the line to be there in our time of need, and, just as they are there for us, we need to be there for them. By partnering with Wounded Warriors Canada, we are improving access to the unique mental health supports our first responders may need in their journey of mental wellness and recovery. No one should suffer in silence, especially those who serve our community with Pride and Honour. I want to thank Chief Andrew Zvanitajs for his leadership and the Service's commitment to providing the best possible care for its members and staff," said Mayor Steven Del Duca.
As a mental health service provider, Wounded Warriors Canada offers a range of clinically-facilitated programs that have been specifically developed to support the unique needs of veterans, first responders and their families. The programs support individuals, couples, spouses, surviving family members, and children of those who serve or have served our country. 
"First responders report to the front lines every day and sacrifice so much to keep the community safe. When our firefighters put themselves in harm's way, it can take a significant toll on their mental health and overall well-being. The partnership with Wounded Warriors Canada will provide an extra layer of mental health supports to help keep Vaughan Fire and Rescue Service personnel – and their families – healthy as they continue to provide Service Excellence to the community. I want to thank the Mayor and Members of Council and the Vaughan Professional Firefighters Association for their support of this crucial initiative, and all members of VFRS for serving our city with pride and honour," said Fire Chief Andrew Zvanitajs.