OCCUPATIONAL TRAINING COURSE DEVELOPED FOR HEALTHCARE PROVIDERS WHO CARE FOR VETERANS, FIRST RESPONDERS AND THEIR FAMILIES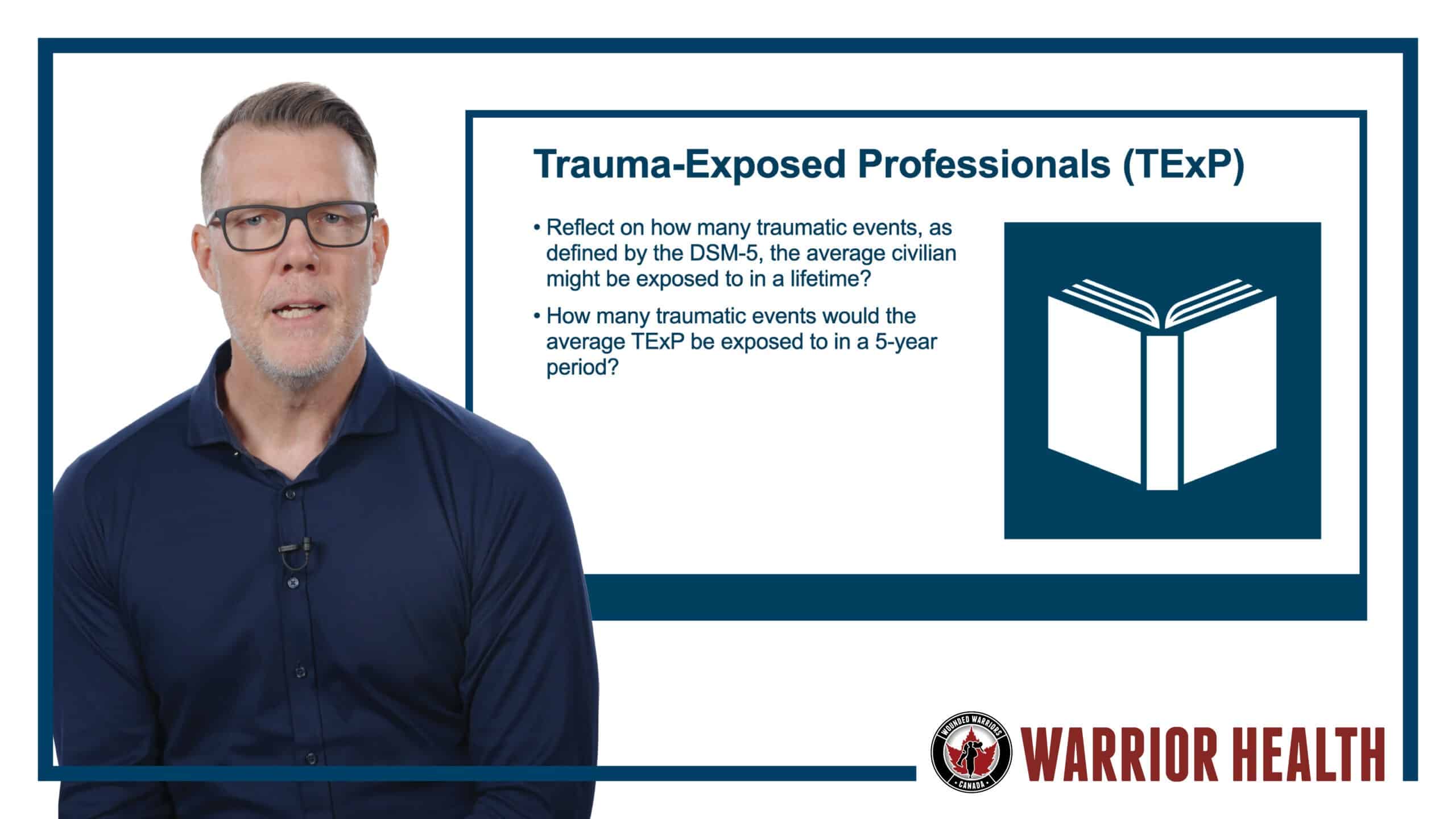 Wounded Warriors Canada, in partnership with the Atlas Institute for Veterans and Families (formerly the Centre of Excellence on PTSD), is proud to announce the release of Introduction to Trauma-Exposed Professionals, a new training course for healthcare providers who support current or former members of the Canadian Armed Forces, the Royal Canadian Mounted Police, public safety personnel, and their Families. The course was developed by Wounded Warriors Canada's co-National Clinical Advisor, Dr. Tim Black, R. Psych.  Dr. Black is an associate professor of counselling psychology at the University of Victoria and specializes in post-traumatic stress disorder, military to civilian transition, and group counselling.
This course has been designed for healthcare providers in response to the unique work environments that are considered routine for those who serve Canada at home and abroad. The course will increase learner competencies in the divide that exists between trauma-exposed professionals and the public, who may not understand the potential impacts of their service on their mental health and well-being  and will provide culturally specific clinical approaches to support the mental health needs of those who serve Canada at home and abroad.
Scott Maxwell, Executive Director of Wounded Warriors Canada explains, "Time and again, we have heard from Veterans, first responders, Family members, and clinicians that the healthcare community would benefit from training that highlights the unique work environments of those who serve. Introduction to Trauma-Exposed Professionals does just that. The course will support healthcare providers who want to increase their knowledge and understanding of the mental health needs of trauma exposed professions while providing culturally specific, clinical approaches to care."
Thanks to funding and support from the Atlas Institute for Veterans and Families, healthcare providers can access the course on Wounded Warriors Canada's Warrior Health digital platform — and it will be offered at no cost to the first 500 eligible healthcare providers to register. Eligible healthcare providers include those working in Canada with CAF Veterans and former RCMP, or their families.
"It is crucial for healthcare providers to understand the specific needs of current and former members of the Canadian Armed Forces and RCMP, public safety personnel, and their Families, to build trust and support effective treatment delivery," explains MaryAnn Notarianni, Deputy CEO and Vice-President, Knowledge Mobilization at the Atlas Institute. "With this course, we are helping to close that knowledge gap and ensure better services for trauma-exposed professionals and their families."