TRAUMA INFORMED WORKPLACE TRAINING
Before Operational Stress (BOS)
BOS is the only empirically supported resiliency program in Canada.
The Before Operational Stress (BOS) program has been carefully designed to provide public safety personnel with theoretical, practical and experiential learning to enhance their resilience and mental health. BOS is a unique program that brings together cutting-edge clinical approaches with recognized scientific expertise to support psychological health and wellness of public safety personnel over the course of their operational careers.
Why BOS?
While public safety employees will continue to be exposed to operational stress, they are not destined to have their lives ruined by the psychological effects of their work. BOS empowers public safety employees to take charge of their mental health. We know that there is information these employees need in order to protect themselves from the effects of operational stress. Further, we know they require practice and support to incorporate this knowledge and these experiences into their operational roles. BOS delivers on these objectives.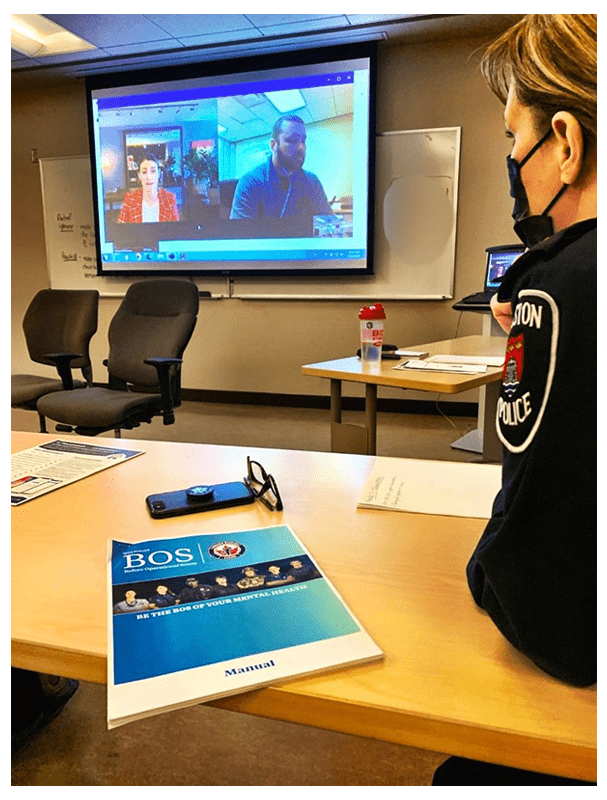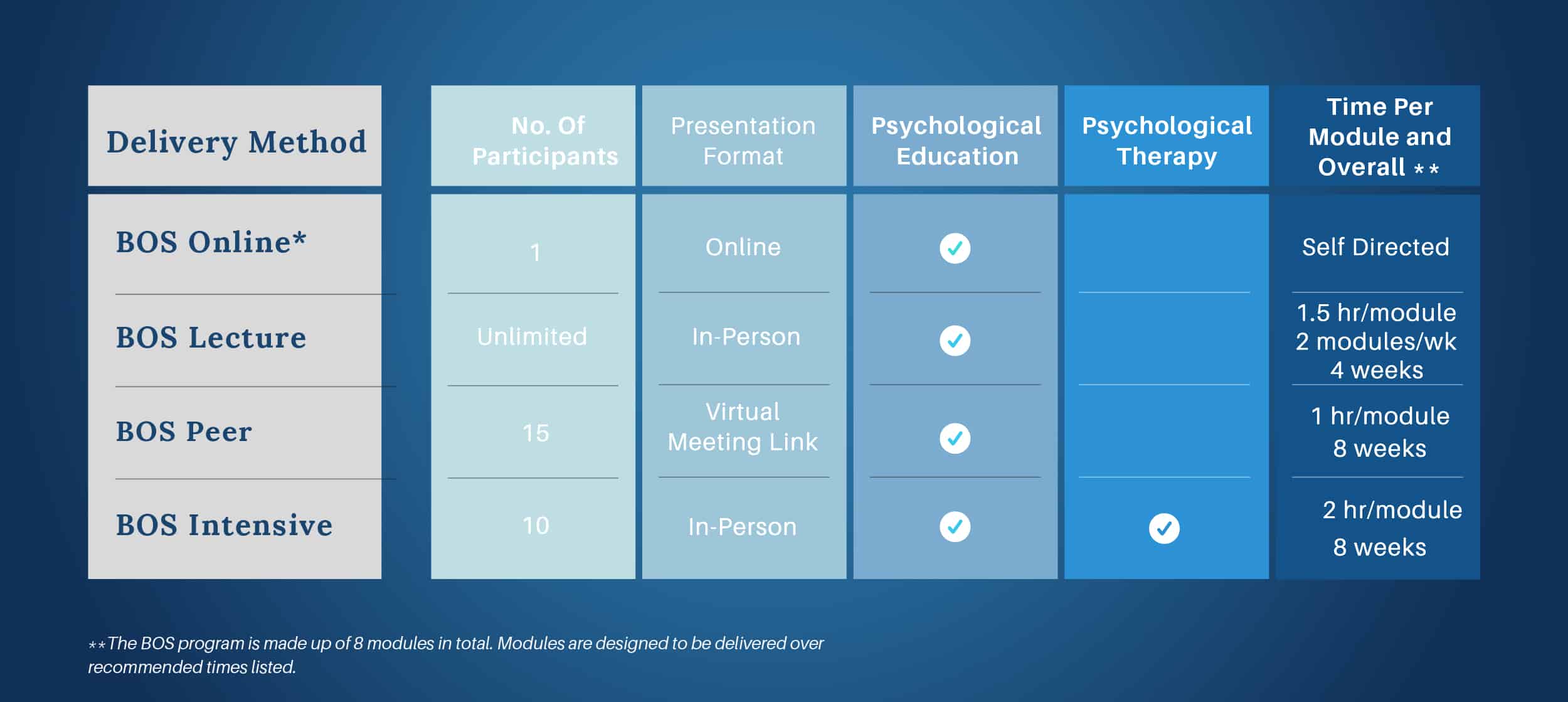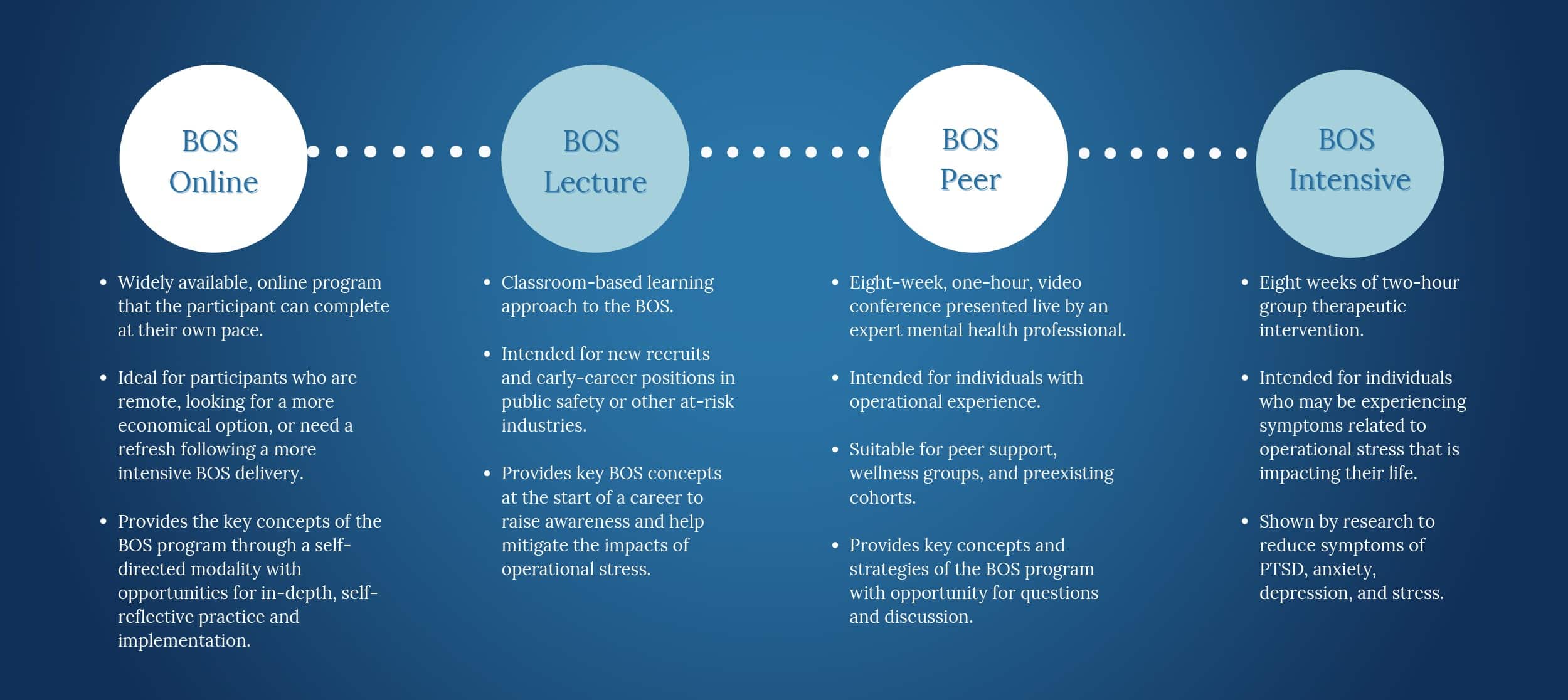 Wounded Warriors Canada & Wayfound Mental Health Group Partnership
Did you know?
In 2015, Wayfound CEO, Dr. Megan McElheran, was invited by CTV Alberta to participate in a panel interview on Canadian Forces active and reserve soldiers, and Operational Stress Injuries.  She was joined on this panel by Lieutenant Colonel (Ret.) Chris Linford, a former Canadian Forces soldier.  Chris and his wife, Kathryn, had newly formed the Wounded Warriors Canada Couples Overcoming Post Traumatic Stress Disorder Everyday (COPE) program, which was an intensive, five-day residential treatment program for military and veteran couples impacted by operational stress injuries, and particularly PTSD.  Given her background, Chris invited Megan to attend and co-facilitate the second COPE program that would be offered in British Columbia in June 2016.  The program, with its emphasis on group process, recovery from OSI/PTSD and uniformed service personnel, was an ideal fit for Megan's skills and interests.  In addition to introducing Megan and Wayfound to the COPE program, this opportunity was the genesis of the ongoing complementary relationship between Wayfound and Wounded Warriors Canada (WWC).
Following her involvement with the COPE program, Megan and some of her associates became heavily involved in program delivery for WWC. The Trauma Resiliency Program (TRP) followed with its launch in the Fall of 2017, which was developed by Dr. Timothy Black. The standard of excellence that WWC set for clinical service delivery was evident to Megan and Wayfound focused on becoming more involved with the WWC programming as they expanded their mandate to include all public safety personnel.
Around this time, Megan began to develop the Before Operational Stress (BOS) program, with its development having been influenced by elements of the COPE and TRP programs. A distinction of BOS has remained to provide upstream intervention and education.  In 2017, WWC identified a goal of adding an upstream delivery to their list of clinical programs and determined BOS to be the curriculum they were seeking.  Wayfound and WWC entered into a memorandum of understanding early in 2018 to work in partnership towards the evaluation and pan-Canadian dissemination of the BOS program.  WWC provided the initial funding for the postdoctoral fellow who was hired to complete independent evaluation of the BOS program through the Canadian Institute for Public Safety Research and Treatment.  They additionally provided the initial funding for the first 150 participants who completed the BOS program.