Park of Reflection
Unveiled on November 1st, 2014, the Park of Reflection is a memorial dedication to all of Canada's uniformed service personnel and their families, who have served internationally or domestically, and became ill or injured in the line of duty.
The park's design symbolizes and augments their journey back to health and represents the sacrifice those in uniform and their families have made for the Peace and Security of Canada. The Park of Reflection is a place for all Canadian's to visit, reflect, and remember the cost of service and its impact on families.
The design of the park consists of a large circular plaza composed of a double-path labyrinth, an inset garden, and sitting walls with a central sculpture. The labyrinth and sculpture represents the journey taken by our ill and injured – from physical, emotional or mental trauma back to their families and community towards increased self-reliance, self-awareness and confidence.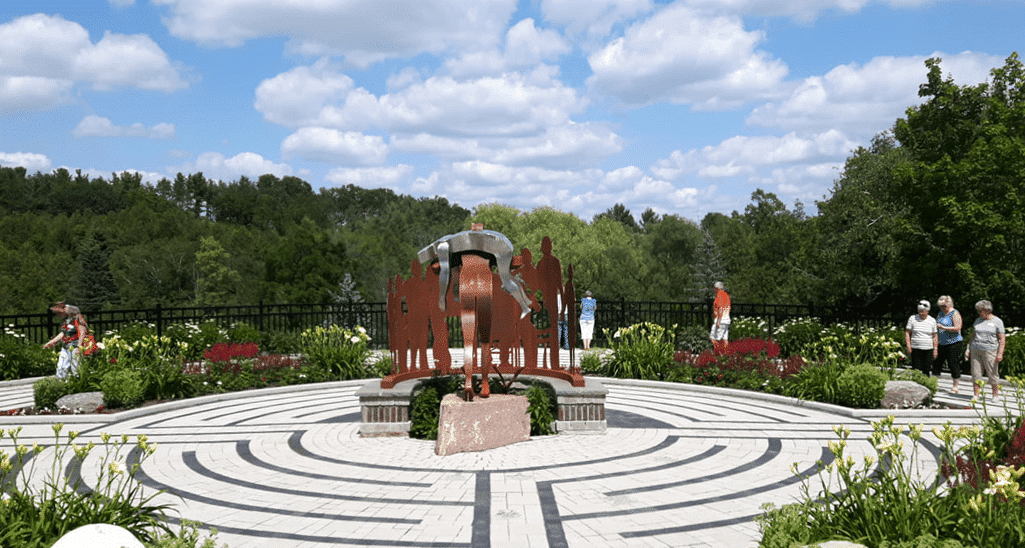 Tribute stones have been created and are being placed in the labyrinth pathway. For a $500 donation, a company, community or family can put forward the name of an ill or injured service member to be engraved with the specific details desired. To purchase a Tribute Stone please download the form and email to:  info@woundedwarriors.ca.
We wish to thank the Town of Whitby for their ongoing support and assistance and Unilock for their $140,000 donation of materials, which ensured the project could be completed. We also want to express our sincere appreciation to each and every donor of this project — you have helped build a lasting memorial to the service of our Veterans, First Responders and their families.